Non-obligatory inquiry
Sewer system repair by reinstatement lining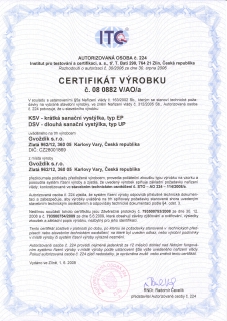 ... is trenchless technology for piping repairs. Resin-saturated carrier fabric, reinforced by glass fibres, forms the lining which is fitted on the damaged spot under camera supervision. It is pressed on the sewer wall by pressure and then hardened. It may be applied on all commonly used construction materials. Substances used for lining reinforcement are well known by their high adhesive capacity even in wet environment. Finished reinstatement lining will provide tightness against ballast water penetrating, it has a long life-cycle and it is resistant against pressurized cleaning. All of that provided with minimum reduction of the piping diameter. Tests proved that reinforced lining is usually more resistant than the original material. Upon your request, we will use materials which comply with specific requirements or they are resistant against specific chemicals.
All materials and technological procedures are certified for usage within the territory of the Czech Republic. High quality and long life-cycle of the lining are provided by top-level materials being used, technological procedures maintaining, regular quality control and long-year practice of our experts. Therefore, we can provide you with 60 month guarantee on the reinstatement lining applied by us.
Short reinstatement lining
... is appropriate for repairs of lateral or minute longitudinal cracks, missing particle or canalization system section; of leaking connection, offset one or connection with ingrown roots, or as the case may be for the connection blanking off.
Local failures elimination within the length of 500 mm
Round profiles from DN 150 mm up to DN 600 mm, application for other than earlier mentioned diameters must be consulted
Financially undemanding repair, which we will finish approximately within 1 hour
Minimal limitation of the piping operation as well as revision chamber vicinity
Gravity systems may be redeveloped without operation limiting
Option of linings overlaying on each other at more extensive damages
Medium-long reinstatement lining
... is convenient for repairs of lengthy longitudinal and capillary cracks, missing particles or piping sections or local wall corrosion. For the period of reinstatement, operation shut down is necessary regarding respective section for about 1 hour, in order to be able to prepare for the repair. Booster pumping must be arranged only for canalization systems with large flow volumes.
Failures elimination within the lengths of 1000 mm to 3000 mm
Round profiles from DN 150 mm up to DN 400 mm
Short reinstatement lining
into the connection
... is convenient for cracks repairs in the area of connection joints to the piping. It also solves leakage, offset and connection corrosion or unprofessionally performed connecting. It will repair wall damage of the main pipe line by abrasive material supplied through the connection pipe or tight connection pipe connecting to new piping after performance of linear trenchless reinstatement. Application method is similar as with short reinstatement lining. However, for application there is special dyke-type flow-through cylinder used, extended by side telescopic sack.
Seamless integral lining
It is applied within the whole circumference in the length of 450 mm in the joint location; it overlaps the connection by app. 125 mm within its whole circumference
Round profiles from DN 200 mm up to DN 500 mm
Financially undemanding repair, which we are able to finish approximately within 1 hour
Minimal limitation of the pipe line operation as well as revision chamber vicinity
Long reinstatement lining
... is convenient for repairs of extensive piping damages, corroded or otherwise damaged piping walls, missing pipe sections and renovation of complete sections in order to improve their hydrodynamic and mechanical properties. This technology is convenient especially for piping repairs with connections led-in. The technology does not require any construction adjustments outside the piping. It is solution for pipe lines located in roadways, under railroad units, buildings and in otherwise inaccessible locations. In the course of application, operation shut down is necessary regarding the whole sections and perform booster pumping.
Linear (complex) reinstatement within the lengths of 6 up to 120 m
Common profiles from DN 150 to DN 1200 mm
Lining wall thickness is determined individually, according to specific conditions and loading for each order separately
Loading the player ...