Non-obligatory inquiry
Optical inspection of sewer piping
by the means of camera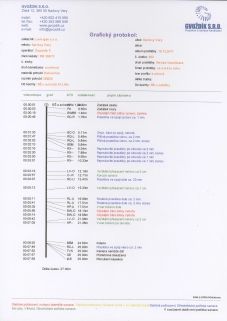 ... is the most effective way of piping status detection and occurring failures disclosure. Their subsequent repair is therefore noticeably cheaper. That is why regular inspection is economically convenient. By using this method you may uncover the following pertinent risks in time:
Collapse of roadways
Extensive canalization system clogging
Piping cracks and in-crush
The inspection output performed by inspection camera is a video documenting all deficiencies including data regarding their location. Further on, we will issue an inspection protocol, where you will also be informed about the data regarding the whole section gradient. The protocol is supplemented with photo-documentation of failures. This document often serves as a background to new distribution systems approval. We will prepare a video as well as protocol for our customers on site and it shall be done within few minutes after inspection finalization.
TV inspection camera system enables the following:
Detailed display is provided thanks to the use of colour camera with turning head,
high image resolution and 2:1 zoom.
Description of respective findings on piping, their location and classification of failures severity
Elaboration of optical inspection and outputs in compliance with ČSN EN 13508-2
Data export in AVI, MPG formats
Data transfer into GIS and ISYBAU XML
Inspection of sewer system, water supply system, drainage systems, gas piping, product ducts
and all other piping structures including egg-shaped profiles;
Working in diameters of DN 40 up to DN 1200 mm
The reach of self-propelled camera truck up to the distance of 230 m
Laser measuring of piping deformation (oval shape)
Continuous measuring of gradient including gradient graph elaboration
Designing the procedure how to eliminate respective defects
Preparation of background documents for GIS mapping system
If the inspection uncovers problems disclosure, do not despair. We will take care of the repair.
Loading the player ...