Non-obligatory inquiry
Repairs of inspection chambers and sewers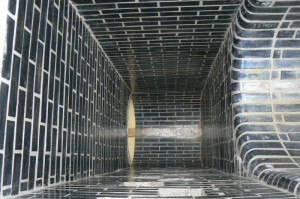 We are able to deal with the following problems:
Missing rising pipes
Leakage of curve pieces and ballast waters penetration
Sidewalks falling in the vicinity of manhole covers
Manholes cover or frame damages
Concrete curbs corrosion
Gutter defects
By timely problems solution of inspection chambers, you will prevent dangerous injuries and no small costs at sidewalks reconstruction.
Inspection chambers and sewers lining by basalt
Cast basalt is a natural material which is well known by its exceptional life-cycle, chemical as well as mechanical resistance and non-absorbing capacity. Therefore, it is an ideal material for sewers and service chambers lining. We provide 10 year guarantee for linings laid by us.